07-November-2023
Vol 14&nbsp|&nbspIssue 45
Thenga, or coconut, is an intrinsic part of a Malayali's life. Every part of the coconut tree is used in a Mallu household, the coir, the kernel, coconut oil, and not to forget the coconut gravy that goes into every delicacy.
However, one Malayali decided to use even the waste like coconut shell that is sometimes trashed, if the household does not have a chulha or the earthern stove where the shells are used as firewood.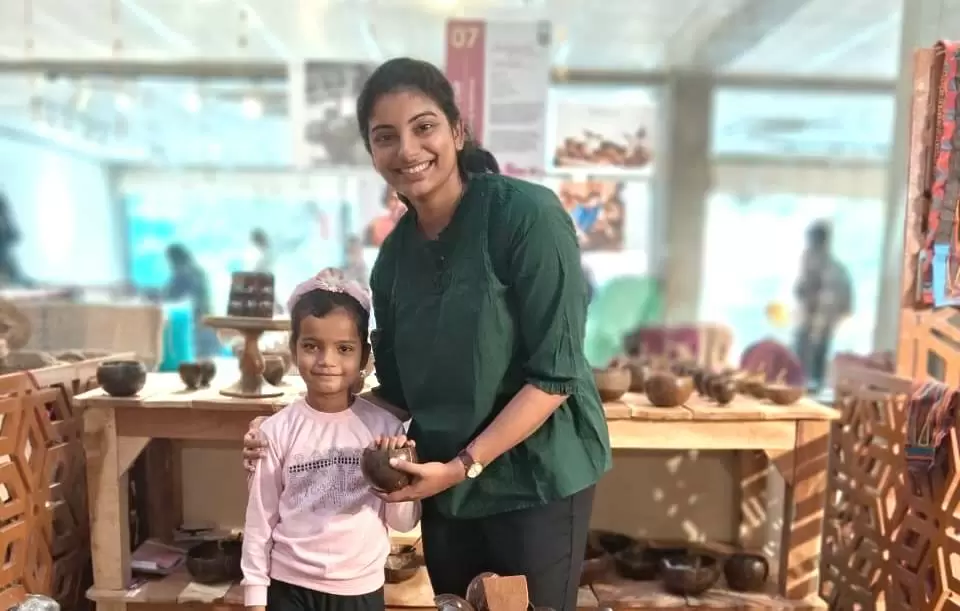 Maria Kuriakose started her venture turning discarded coconut shells at her house into nice bowls (Photos: Special Arrangement)
Palakkad-based Maria Kuriakose, a 28-year-old first generation entrepreneur's venture breathes new life into coconut shells, crafting them into utilitarian and decorative items such as bowls, candle holders, ladles, and even bespoke shot glasses, as well as home and garden accessories like diya sets and plant hangers.
Despite a good job as an analyst with Aon Consulting in Mumbai, Maria always had the itch to do her own thing in Kerala. "I have always dreamt of being an entrepreneur, right from my school days," she shares.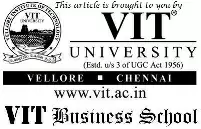 Maria bid goodbye to her corporate job at Aon in 2018 and joined Myna Mahila Foundation in Mumbai, an organisation championing women's issues and breaking the silence around menstrual taboos.
It was part of her strategy to understand social entrepreneurship. During her two-year tenure there, the blueprint for her own business began taking shape.
"I was always looking for sustainable options for kitchen use. Natural products always fascinated me," says Maria, initially contemplated utilising the often-discarded coconut water from oil mills.
But the prospect of a Rs. 2 crore investment for processing equipment was a formidable barrier for someone new to the business world.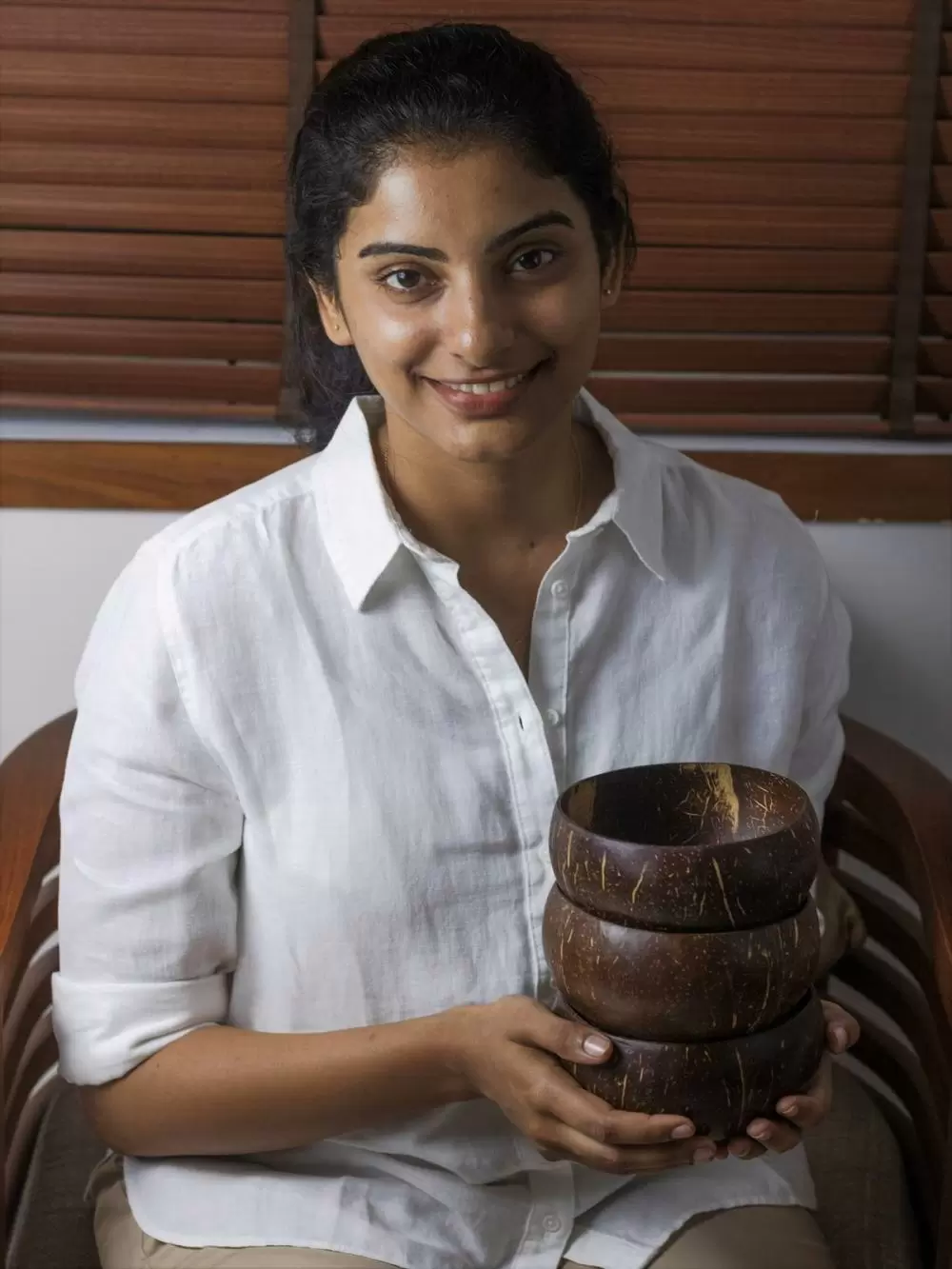 Coconut shells transformed into nice looking bowls
Shifting her focus, she experimented with coconut fibre to create flower pots, and tried to sell them at Mumbai's nurseries. However, she soon discovered that the nurseries were sourcing the same products at a cheaper price from Pollachi, Tamil Nadu.
Her breakthrough came when she noticed the demand for products made from coconut shells, prompting her to tap into this potential, which ultimately led to the success of her business.
Maria's brainchild, Thenga, which she launched with a single employee and just one product—a salad bowl—back in February 2020, now proudly offers 45 SKUs.
Her workforce has expanded to 20 skilled artisans, who are supported by an all-women operations team of 11, managing everything from the website to customer service, marketing, social media, and finance.
Starting with a turnover of Rs. 20 lakh in the first year, Thenga witnessed a steep increase to Rs. 50 lakh in the next year and has now reached a milestone of Rs. 1 crore in the latest financial year.
In the initial days of her business, Maria took on the task of handcrafting coconut shell bowls in her house, supported by her mother, Jolly Kuriakose, who helped collect the shells, and her father, Kuriakose Varoo, an ex-Tech Mahindra engineer.
Maria shares, "I made my first 150 kitchen bowls, like salad bowls, and sold them for Rs. 60 each at local fairs and to friends, making Rs 9,000." She put this money back into her business, buying a drilling machine for Rs. 1,500 and modifying a sanding machine with her father's help.
"All in all, I didn't spend more than Rs. 4,000 to start up," she says. Maria often faced skepticism from those who questioned her decision to leave a well-paying job that earned her over Rs. 8 lakh a year to follow her passion.
"Many told me to treat it as a hobby instead of giving up my job, but my parents were very supportive of my decision, unlike most Indian parents," she says.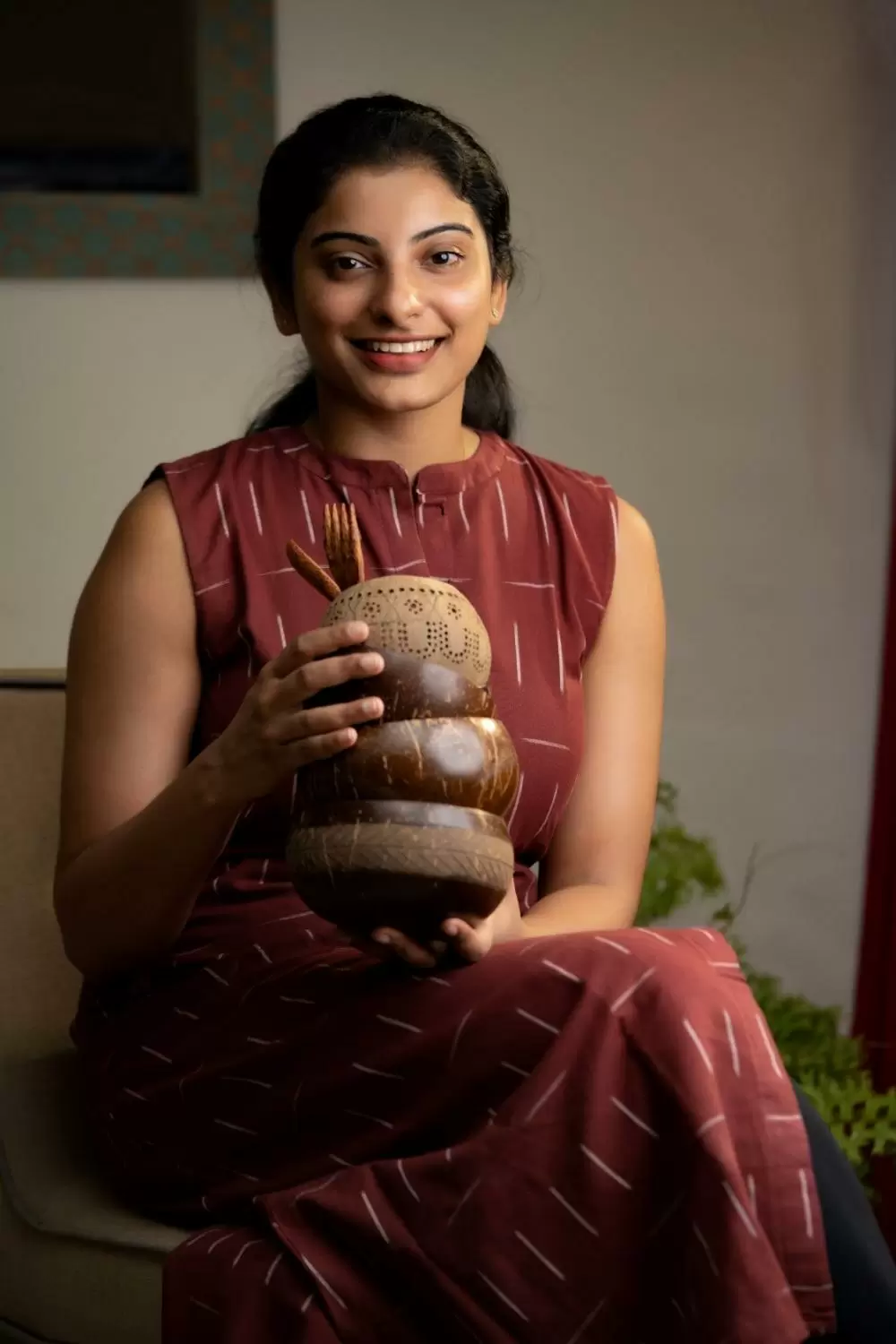 The products made from coconut shells like teacups, and ladles can last a lifetime, claims Maria
Her products are mostly daily-use items like teacups, soap dishes, ladles, masala holders, and spoons, which she says last a lifetime and leave no carbon footprint.
Making these products may seem "easy" because it is after all a "coconut shell" that needs to be sourced.
However, Maria notes that "when we get an order for a 300 ml cup, we need to get a shell of similar size, considering that not all shells are of the same size. Sometimes from a truckload of coconut shell, I manage to get just about 100 that can be used.
"Then I decided to identify the oil mills in regions from where these artisans came from. I tied up with these mills and sourced shells of various shapes and sizes."
While looking for artisans to make these coconut shell products, Maria mostly came across those who made these products for rural customers part time as they continued to work at construction sites for a livelihood.
By partnering with them and providing them work, she is now providing a steady livelihood for these artisans, who are located across Kerala, in places like Palakkad, Thrissur, Alapuzha, Kozhikode, and Wayanad.
With artisans on board, Maria still had a handful of tasks to complete on her own, from labeling to packaging to dispatching. That was when she decided to hire a woman to help her.
"It left me with some time to plan for bigger things," says Maria. During Covid-19, she took her business online. "Actually, the pandemic helped my products gain recognition. People had all the time in the world to search for sustainable options.
"Women, who had little time earlier to venture into the kitchen, began looking for eco-friendly products. Only when I ventured into online marketing did the Thenga brand gain recognition."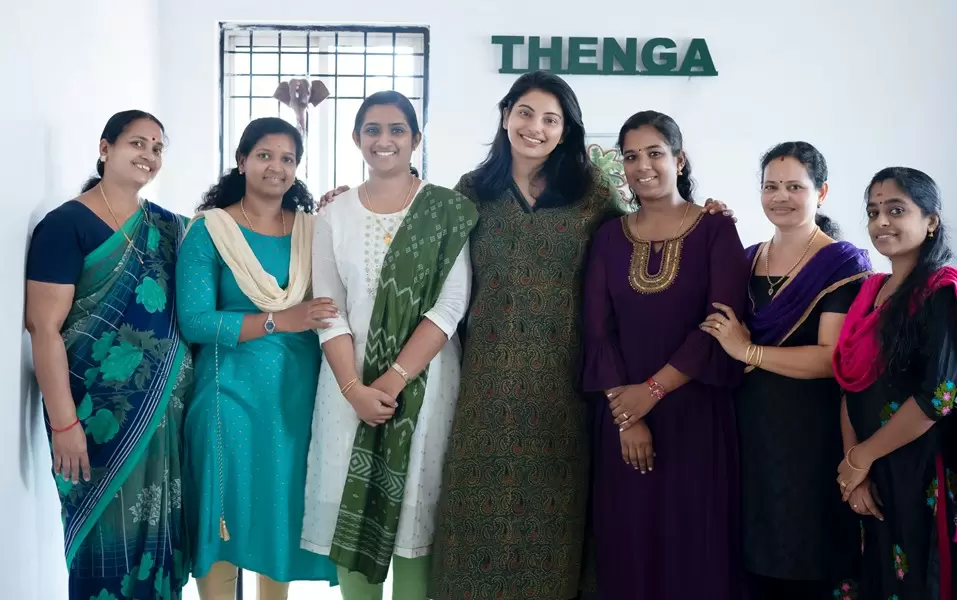 Maria with some members of the Thenga team
In addition to the company website and Instagram page, the products are now also available on traditional e-commerce sites such as Amazon, Jio Mart, and Flipkart.
Looking back on her business beginnings, Maria says "My initial bulk orders were from businesses that wanted a personalised product. I prepared the products and took them to a laser printer to get the name of the business engraved on it."
Born and brought up in Kerala, Maria moved to Mumbai after schooling and graduated in economics from St. Xavier's College.
She did her Master's in Business Administration from ICADE School of Business and Economics in Spain on a scholarship. She now lives in Palakkad with her husband Sachin, who has a jewellery business, and her one-year-old son.
"Every part of my product is eco-friendly. I have used coconut oil instead of conventional paint and varnish to polish the bowls," says Maria. "The coconut shell is a sustainable alternative for plastic and metal cookware since it is 100% biodegradable."
She says a majority of her customers are from outside Kerala, especially metros such as Bengaluru, Delhi, and Mumbai, "where there is much more awareness regarding eco-friendly products."
Maria also exports her products to Europe and the US, where "the customers are very conscious about sustainability and protecting the environment."
"Exports comprise 60% of my annual revenue," she says. "I am proud of the fact that my products contribute to environment sustainability in two ways: it reduces waste and does not use virgin wood. "
Her products are reasonably priced, starting from Rs. 300 for a cutlery set of a spoon, fork and knife, making it affordable for all segments of society. She is planning to venture into the toys and jewellery segment soon.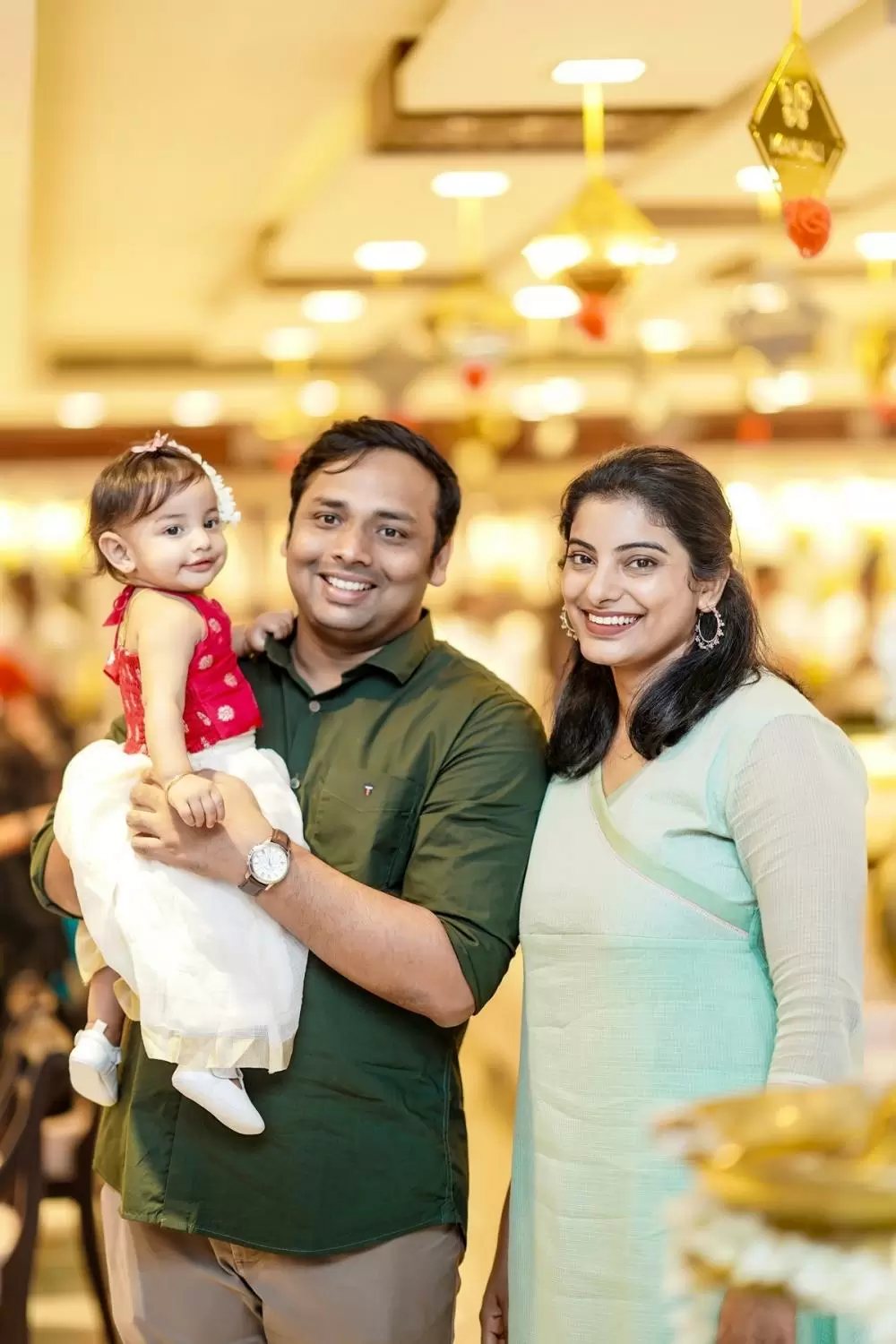 Maria with her husband and child
At the G20 Empower meeting held at Kovalam in April, Maria's products received widespread appreciation from international delegates.
Apart from overseeing operations and taking up initiatives and strategies to help Thenga grow to new heights, Maria also handles all marketing initiatives, including social media to communicate Thenga's story.
So how does this entrepreneur unwind after a long day? "For leisure I occasionally watch Netflix or take my dogs out on a walk," Maria signs off. – ©TWL
© Copyright: The Weekend Leader.com, 2023. All rights reserved.