Meet Mimi. This is my daughter's baby. She's breastfed on demand, uses a tiny sleeping bag and gets rocked to sleep.
Yes, I've literally given my two-year-old a child to take care of. A plastic one, but semantics aside, my toddler firmly believes Mimi is real.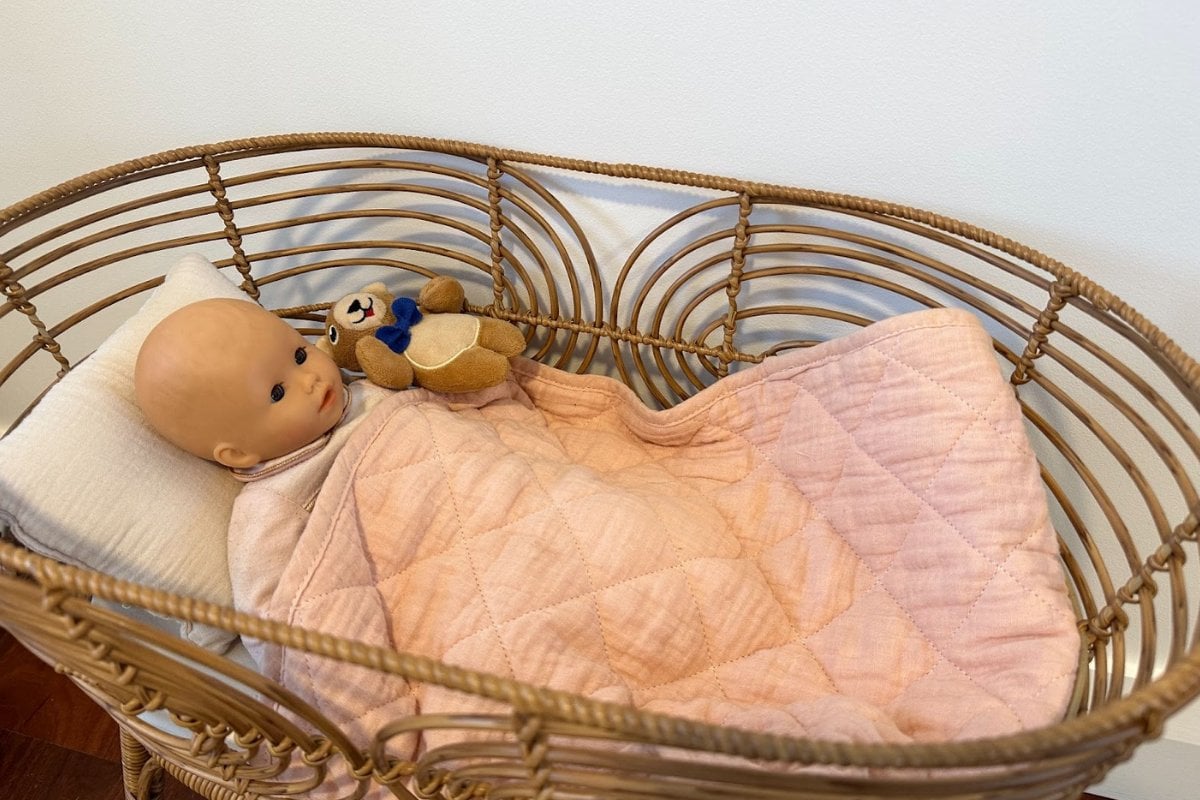 Image: Supplied. The most well behaved child in my house
I thought the doll would be a perfect birthday gift. And voila! My little girl took to her straight away. This ended up being a blessing in disguise when my second child arrived earlier this year, with Mimi serving as the perfect training wheels for my daughter to transition from only child to big sister. I went all out, decking Mimi out with tiny nappies, a pram, even a cloth carrier, so my daughter could be "just like mummy" by wearing her baby doll strapped to her chest.
Now don't get me wrong, watching my daughter pretend to breastfeed a doll is almost cute enough for me to want a third child. And seeing the nurturing and kind little girl my daughter is becoming by caring for her doll has made me feel like I'm raising a mini-Mother Teresa. It's also comforting to know research shows playing with dolls helps children develop empathy.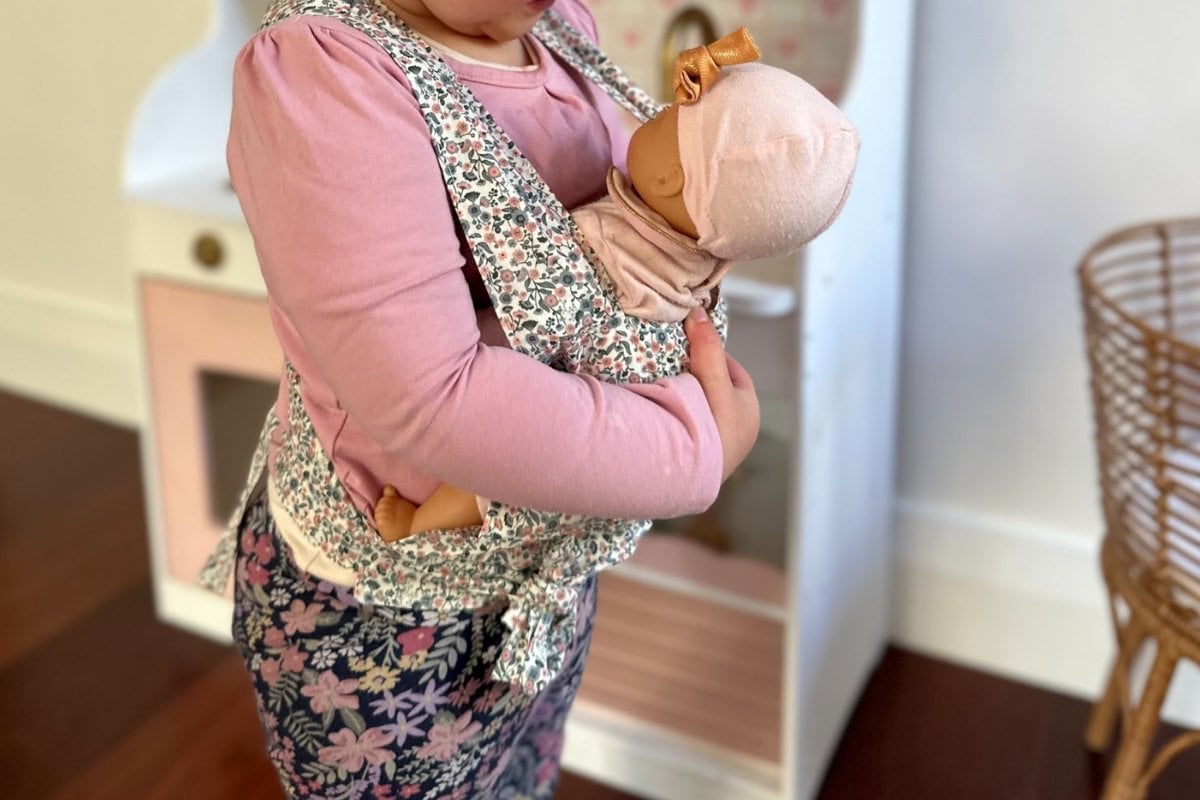 Image: Supplied
But as my daughter grows, so too does the awareness I have of how toys are marketed to gender stereotypes. Girls get gifted makeup kits and impossibly thin plastic dolls, while boys get Lego and cars that can transform into dinosaurs.
Of course, it's 2023 and we've supposedly bid adieu to labelling toys for boys or girls, but you only need to visit a toy store to see there is a clear gender divide. Life-sized Barbie heads with long blonde hair that you can style are on shelves next to hot pink nail kits where you'll also find pretend baby food that can make your doll do a number two! Round the corner and the colours turn dark, lots of black, navy and red, where you'll find a large selection of building supplies like blocks, buckets and shovels alongside science experiments and big trucks. And subliminal messages are laid out and little kids are taking note.
It may sound trivial to be worrying about my daughter playing with a doll, but toys play such an important role, not just in children's development, but in how society starts moulding who they should be.
Little Johnny down the street is mastering self-reliance, innovation and problem-solving skills when he builds creations with his blocks that rival the Empire State Building.
At best, my daughter is happily spending hours playing with her 'baby' Mimi. At worst, Mimi is whispering to my toddler that her value is in how selfless she is, and that how she thinks and feels should come second to others. And when that's combined with the influence of clothing covered in bunnies and books where boys are predominantly the main character, it's easy to understand how our girls are shaped from the moment they are born.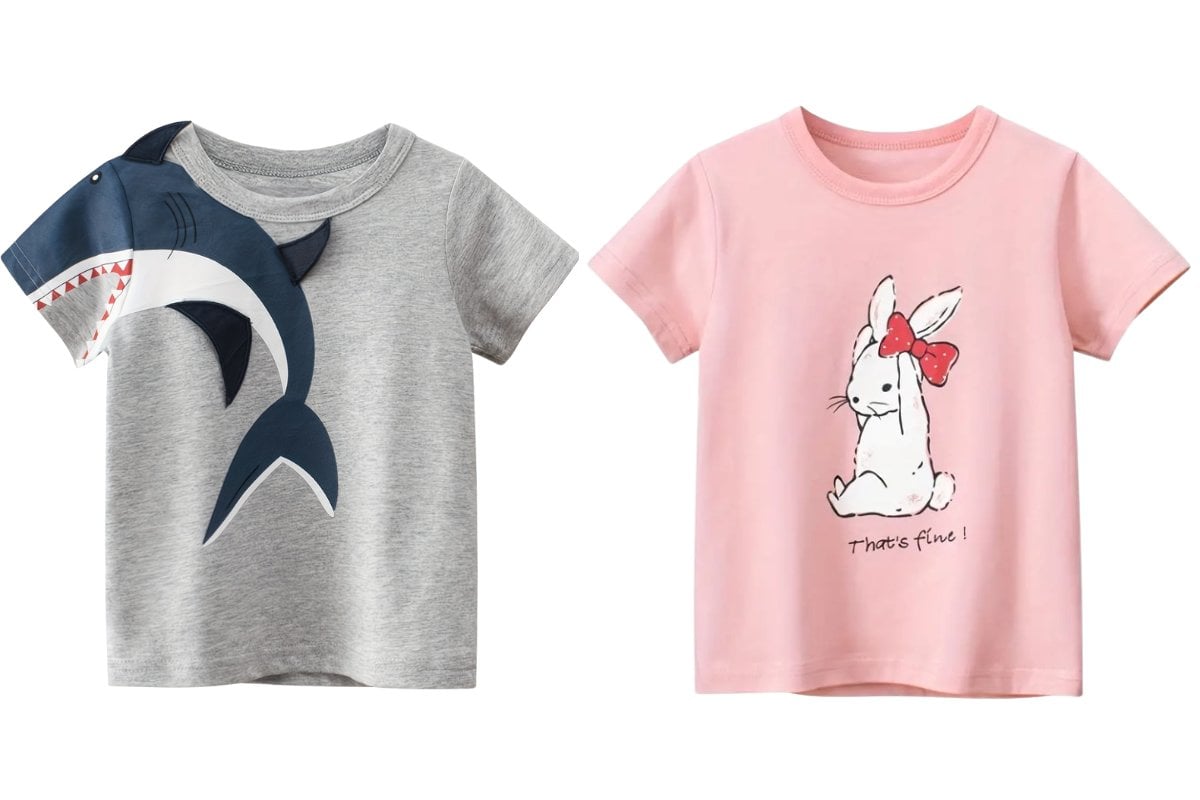 Image: Supplied. Prey v predator on kids clothing.
So, what's the solution? Well, maybe I should spend less time up at night worrying about my daughter's future based on her favourite toy. Especially when there is a long list of benefits to playing with dolls, including processing emotions, improving speech and developing an imagination.
But ultimately boys should be playing with things that help foster selflessness and empathy too. Which is why this Christmas my son is getting his first doll, while my daughter is being given Connetix, to help diversify the toy choices in our household. But don't worry Mimi won't be going anywhere.
Feature Image: Supplied
TAKE SURVEY ➤