From coffee subscriptions to cork homeware, via virtual tours of forbidden countries, here are 32 positive presents to give this Christmas – including personal recommendations from the Positive News team
From coffee subscriptions to cork homeware, via virtual tours of forbidden countries, here are 32 positive presents to give this Christmas – including personal recommendations from the Positive News team
This Welsh B-Corp is breathing life back into a former mining community, replacing the coal (or black gold) with its own anthracite-coloured treasure: coffee. Choose from single bags or go the whole hog by gifting a coffee subscription. From £9 for a bag, or £9.50 per month for a subscription with 50 per cent off the first fulfilment; coaltowncoffee.co.uk
Image: Coaltown
Personal experience tells us that this smart, zero-waste portable cutlery set will gain the user all the lunch break compliments they could ever wish for. The handy box contains a knife and fork, soup spoon and chopsticks. Available in four on-trend colours. £8.80; etsy.com
Image: Obest
Anna Jones presents "a greener way to cook for you, your family, and the planet" with 200 ideas on cooking quickly and sustainably. A beautiful addition to any bookcase with the added bonus of saving on the washing up if the recipient invites you round for dinner. £28; waterstones.com
Image: Harper Collins 
A weekly meal planner can helps people avoid food waste, while looking cool in their kitchen. This one is printed in the UK on FSC certified part-recycled paper using renewable energy. Head to The Frugality blog for top meal planning tips. £6.50; the-frugality.com
Image: The Frugality 
Spicy tomato relish made from unwanted wonky toms, honey spiced nuts that help girls in Africa get an education… every treat in this gift box has its own world-improving story, told in the booklet that comes with the gift box. £48; socialstoriesclub.com
Image: Social Stories Club 
Recommended by Seán Wood, CEO
"According to a (probably not entirely rigorous) survey conducted by a PR firm, people working in the media drink more coffee than in any other profession. True to form, I love hunting out the best beans from independent roasters. My current favourite is Glen Lyon – a certified B Corp based in the Scottish Highlands. Gift a subscription and someone will enjoy a fresh pack of ethically sourced beans each month, delivered in 100 per cent compostable packaging. Sales help fund their coffee academy, which provides industry training to local school leavers – valuable work experience for those in a remote, rural area." From £25; glenlyoncoffee.co.uk
Image: Nathan Dumlao
Recommended by Iris Pase, social media manager
"I'm a big fan of aperitivi: sharing a tipple and good conversation with friends, while enjoying some tasty snacks. Add to that drinking a wine that helps protect our oceans and it's the perfect mix! Sea Change's wines are packaged using paper from sustainable forests made in part from grape waste. And with every bottle sold, the company donates part of the money to ocean and marine focused charities to support conservation." From £11; seachangewine.com
Image: Sea Change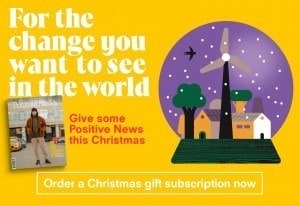 This beanie is made in the UK using 100 per cent superfine wool, certified by the Responsible Wool Standard. It's kitten-soft and available in four shades: navy and grey (staying true to the brand name), as well as red and light brown. A cosy gift to keep someone's bonce warm this winter. £65; navygrey.co
Image: Navy Grey 
The guys at Roake Studio hate waste, so they make their accessories from fabulous off-cuts. Choose from hair scrunchies or these lovely pouches, fashioned from the remnants of the brand's signature quilted jackets. Pretty enough to use as a clutch, or as a chic way to store charging cables. £32; roake.studio
Image: Roake Studio
Ever wondered what can be made using old CDs? Then take a look at #TOGETHERBAND's range of sunglasses, with frames constructed from just that: recycled polycarbonate that had a previous life in somebody's CD rack. For every pair sold, £1 is donated to Sightsavers, an NGO that treats and prevents avoidable blindness. £40; togetherband.org
Image: #TOGETHERBAND
Unisex tees in 12 luscious colours, knitted using solar-powered, zero-waste machines. Each one comes with a removable scannable tag that allows the wearer to trace the origins of their tee, and also adopt and track their very own sheep. £95; sheepinc.com
Image: Sheep Inc 
Organic cotton snugglies for lido lovers, sea swimmers and pond dippers alike. All of Rapanui's products are made using natural materials and renewable energy, and can be sent back when they wear out for the brand to make into something new. £110; rapanuiclothing.com
Image: Rapanui
A pair of comfy socks is always a dependable Christmas present. Make it three pairs, and you're definitely onto a winner. Rock + Ruby's chunky British cotton socks are made for men and women, and come in a sustainably sourced cardboard box. From £33; rockandruby.co.uk
Image: Rock + Ruby
Recommended by Daisy Greenwell, acting editor
"I bought this for my husband last Christmas and sadly it was too small for him, so it became mine and has been on my head for most of the year – I love it! It's made from felted wool in Germany, with a bobble added in Bristol, designed by the very cool husband and wife team behind The Ottowin Shop. I'd recommend this for anyone without a gigantically large head (like my husband)." From £45; theottowin.shop
Image: Ottowin
Time to raid the recycling bin! With creative uses for scrap cardboard, loo rolls and string to keep little ones (and big ones) busy for hours, Sydney Piercey's charming book has over 60 Earth-friendly ideas for creating rainy-day toys and games. £11.55; hive.co.uk
Image: Sydney Piercey
A delightful plastic-free game. Roll the illustrated dice and then balance the corresponding wooden pieces on Eddy the polar bear. The best bit? There's no need to tidy up after as it looks good on display. £24; kidly.co.uk
Image: Vilac
Part crayon, part-lego bricks, these non-toxic colouring blocks are made from natural bean wax and come in a cute cardboard box. Choose from different colour palettes and box illustrations, or collect all four. £6.45; small-folk.co.uk
Image: Goober
For the mini eco warrior or teen climate activist, choose an organic cotton slogan tee printed with vegan inks that are GMO free, naturally. This retro design is hand-printed and is available for ages 3-14. £20; cissywears.com
Image: Cissy Wears
Recommended by Sarah LaBrecque, partnerships editor
"My four-year-old daughter loves feeding animals. And I mean loves. Whether it's our cat, my sister's oversized rabbit or the miniature ponies near her grandparents house, she's always keen to be the bearer of snacks. So I'm planning on getting her this pizza-making kit for the birds, which comes with rounds of native wood from Shropshire as the 'bases', different types of bird food, and species identification cards. Pizza is one of her favourite foods so I'm sure she'll get a kick out of it, plus it's a fun way to get her engaged with animals of the non-domesticated sort." £19.50; thedenkitco.com
Image: The Den Kit Company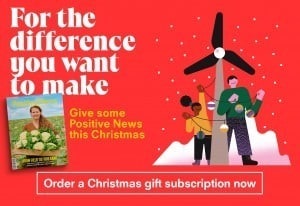 The Worshipful is a marketplace for beautiful, sustainable pieces made by craftswomen like Mirium, who created this cotton napkin set. Hand dyed in Clapton, London, using plants and flowers, each collection is completely unique. The website has plenty of other gift ideas, including candles, ceramics and essential oils. £22; theworshipful.com
Image: Atelier Dembach
Cork is an incredibly sustainable material because it's not harvested at all for 25 years, and subsequently just once every decade or so while the tree is still living. Made using this wondrous material are these modern vases, perfect for displaying dried blooms or fresh stems. £49; mindthecork.com
Image: Mind The Cork 
Treat the botanist in your life to a recycled cotton macrame plant hanger in black or white. If they're crafty, Heather Orr also sells a nifty kit for the same price with everything they'll need to make one themselves. £35; heatherorr.co.uk
Image: Heather Orr
Coloured glass evokes forever on-trend vintage feels, whether that's for celebrating at the Christmas dinner table, or chilling outside in the summer sun. These ribbed beauties come with the peace of mind that they're made using recycled glass. Cheers. £9.99; protecttheplanet.co.uk
Image: Nkuku

These eye-catching place mats are made from cork and recycled plastic that may otherwise end up in landfill or oceans. Finish the look with a set of matching coasters, which apparently continue to absorb CO2 as a finished item. £28; loveliga.co.uk
Image: Liga 
These gorgeous candles are hand-poured in Hampshire using vegan, natural soy wax. They're dreamily scented with sandalwood and vanilla. Choose from individual candles, or colour-coded sets of different shapes, like this peachy collection. From £10; ellishomestudios.co.uk
Image: Ellis Home Studios
Recommended by Nicola Ng, customer and community liaison
"I love gifts that help to solve a problem and give back which is why I think CosyPanda hot water bottles are great! Not only will they help to keep people warm this winter, they are beautifully made with natural and sustainable materials and 10% of their monthly profits are donated to good causes, win win." £35; cosypanda.com
Image: Cosy Panda 
Packed with uplifting stories about the things that are going right in the world, Positive News magazine is a perspective-shifting present that challenges the negative news cycle. Recipients of our gift subscriptions receive four copies of our certified carbon neutral magazine throughout the year, plus the current issue for Christmas. £30; positive.news/christmas
Image: Positive News
Whoever you buy this for can choose from hundreds of experiences across the world. UK options range from coasteering in Pembrokeshire to whisky tasting in Edinburgh. Every experience is carbon offset and funds the planting of six trees. Delivered either by email, or in a gift box made from recycled materials. £79; tinggly.com
Image: Coaststeering 
Speaking of tree planting, Tree-Nation allows you to fund reforestation efforts on someone else's behalf. Projects include Trees for Tigers, which is restoring habitats in India, or Amazon Windshields, a tree-planting project that is helping prevent erosion in Bolivia. From €0.15 (£0.13) per tree; tree-nation.com
Image: Vitor Monthay
Another present perfect for those eschewing consumerism, Oxfam's gift cards mean you can donate to a cause close to your loved one's heart on their behalf, whether that's climate justice, equality for women or clean water. From £5; onlineshop.oxfam.com
Image: Oxfam 
Similarly, Choose Love's shop allows you to buy hot meals, accommodation and medical treatment for refugees on behalf of your recipient. Fund a one-off intervention, or buy a monthly subscription. From £35; choose.love
Image: Dolores Preciado
Recommended by Gavin Haines, digital editor
"Travelling to a country that's off-limits has always appealed to me. This tour of Afghanistan may be virtual, but I like its subversive nature – the fact it's led by the country's only female tour guide (now safely in Italy) and that profits help fund a secret school for girls in a country where the Taliban forbid them an education. With my horizons narrowed due to parenthood, this is an ideal trip for me and one that gives back to a country going through hard times." From: $60 (£50); untamedborders.com
Image: Untamed Borders
Main image: ArtistGNDphotography/iStock
Website: Atomic Smash
Our small, dedicated team is passionate about building a better alternative to the negative news media. And there's never been a greater urgency to our mission. 
To invest in producing all the solutions journalism that the world is longing for, we need funding. We're asking readers like you to get behind us by making a regular or one-off contribution as a Positive News supporter. Please back our team today and, together, we'll change the news for good.