Sundt Construction, along with owners JDM and design partners Douglas Fredrikson Architects, recently celebrated the topping out of the Adobe Restaurant and Clubhouse, the second phase of the Arizona …
Join our family of readers for as little as $5 per month and support local, unbiased journalism.
Already have an account? Log in to continue.
Current print subscribers can create a free account by clicking here
Otherwise, follow the link below to join.


To Our Valued Readers –
Visitors to our website will be limited to five stories per month unless they opt to subscribe. The five stories do not include our exclusive content written by our journalists.
For $6.99, less than 20 cents a day, digital subscribers will receive unlimited access to YourValley.net, including exclusive content from our newsroom and access to our Daily Independent e-edition.
Our commitment to balanced, fair reporting and local coverage provides insight and perspective not found anywhere else.
Your financial commitment will help to preserve the kind of honest journalism produced by our reporters and editors. We trust you agree that independent journalism is an essential component of our democracy. Please click here to subscribe.
Sincerely,
Charlene Bisson, Publisher, Independent Newsmedia


Need to set up your free e-Newspaper all-access account? click here.
Click here to see your options for becoming a subscriber.
Click here create a free account for posting comments. Note that free accounts do not include access to premium content on this site.
Sundt Construction, along with owners JDM and design partners Douglas Fredrikson Architects, recently celebrated the topping out of the Adobe Restaurant and Clubhouse, the second phase of the Arizona Biltmore Golf Club renovations project.
"This is such a landmark of architectural innovation," Michael Nunn, project executive, said.
"The owner put forth a lot of trust in us to match the craftsmanship of the historic portions of the building. It's an honor to be a part of the Biltmore story."
The second phase of improvements include a new clubhouse and restaurant with private dining room, ballroom and roof deck. The first phase of the project added a new golf shop, member facilities and cart barn.
The primary goal of this project was to enhance the 100-year-old property while preserving its original character, according to a release.

Other items that may interest you
Most popular stories in Daily Independent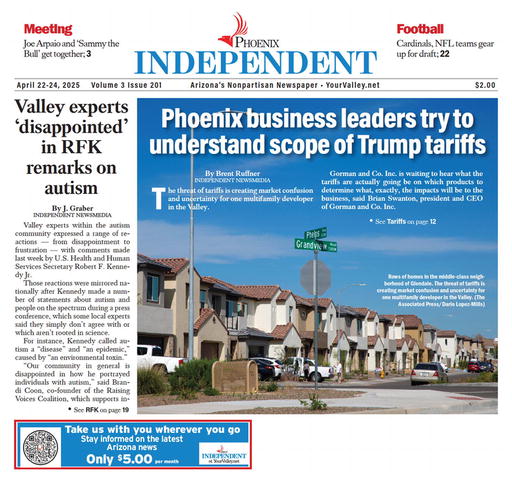 Read the latest print edition here.
View this issue
Browse other issues
BUFFALO, N.Y. (AP) — Bobby Brink had a goal and an assist and the Philadelphia Flyers beat the Buffalo Sabres 5-1 on Friday night to snap a three-game losing streak. Samuel Ersson made 22 saves …
Long distance! Wrongly measured 3-point line on Nuggets' court fixed ahead of tipoff with Mavericks
Hayes scores twice to help Blues beat Devils 4-1; Devils lose Jack Hughes to injury
Weekend Time Schedule
Justice Department ends probe into police beating of man during traffic stop in Florida
Turner, Haliburton help Pacers beat Cavaliers 121-116 in In-Season Tournament opener


YourValley.net
623-972-6101
17220 N Boswell Blvd
Suite 230E
Sun City AZ 85373
Email: azdelivery@iniusa.org